Top 10 Places to Visit in Morocco
Marrakech is also known by the name of Red City because its houses, walls and streets are painted in red and pink. Established at the end of the 12th century, Marrakech was once the official capital of Morocco, playing an important role in the trans-Saharan trade route. Today it is the capital of tourists with the old streets, old houses riad. The most famous is Djamâa el Fna square(Street Theater), where there is a night market where everyone should come once in a lifetime. Let us show you the secrets of this active city, also we can combine it with Merzouga Sahara desert in few days desert tour.
Step into a time warp in this 9th-century medina, the world's most active medieval city. With culturally important fondouks, riads, medersas, mosques, and palaces dating back 1,000 years filling the 9,500 alleyways, it's no surprise Fez el-Bali is a UNESCO World Heritage Site. Check our proposal Fes desert Tours and explore with us this culturally city, also we can combine it with Merzouga Sahara desert in few days desert trip.
Casablanca ( The Economic Capital of Morocco)
Casablanca, Morocco's commercial centre, tends to come lower down on the tourism list, behind the likes of Marrakech and Rabat; however the city's French colonial legacy, entwined with the traditional Arab culture, ensures there's lots of diverse things to do and see. Alongside the art deco buildings, and old stone medina alleys, visitors can find museums, palaces, and the second largest mosque in the world.
Tangier ( The Gate to Africa )
Guarding the Strait of Gibraltar, Tangier has for centuries been Europes's gateway to Africa. Its blend of cultures and influences is unique in Morocco – for much of its history it wasn't even governed by Morocco.
Coming to Merzouga, the small town known as the Desert Gate, you have the opportunity to sit in dedicated cars across the windswept Erg-Chebbi sand dunes, and watch the sunset or sunrise fall brightly into the desert. In particular, here you can camel trek experience and overnight in a desert camp & much more desert activities.
Chefchaouen ( The blue pearl
Nestled on Rif Mountain, this lovely city, is also known as The Blue Pearls because people here have traditionally painted the entire city in blue. In the sunshine of Africa, the city is like a cool coat and the place to produce photos can not be … bad. Chefchaouen brings a sense of calm, peace, fresh air, pleasant.
Ait Ben Haddou Kasbah Kasbah
Ait Ben Haddou Kasbah located in the foothills of the southern slopes of the High Atlas in the province of Ouarzazate, the site of Ait-Ben-Haddou is the most famous ksar of the valley of Ounila. The Ksar of Ait-Ben-Haddou is a striking example of southern Moroccan architecture. Ksar is a mainly collective group of housing. Inside the defensive walls reinforced by corner towers and pierced by a chicane door, the houses gather – some modest, others resembling small urban castles with their tall towers and their upper parts adorned with clay brick patterns – but community areas. It is an extraordinary set of buildings offering a complete panorama of construction techniques in pre-Saharan land. The oldest buildings do not seem to be prior to the 17th century, although their structure and technique spread very early in the valleys of southern Morocco.
Ouarzazate City ( Hollywood of Africa)
Ouarzazate is a city south of Morocco's High Atlas mountains, known as a gateway to the Sahara Desert. Its huge Taourirt Kasbah, home to a 19th-century palace, has views over the rugged local landscape, which features in several movies. Northwest is the fortified red-earth city of Aït Ben Haddou. Northeast is the rocky Todra Gorge. A road winds southeast through the Draa Valley's lush palm groves to the desert.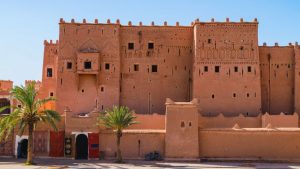 Meknes is one of the four most famous royal cities of Morroco, Meknes is built in Islamic architecture combined with impressive Spain, surrounded by tall walls with giant gate. There are also historical sites such as Hedim Square, Medin Historical Center which is considered by UNESCO as World Heritage or Bad Mansour, the largest gate of Meknes.
Rabat City ( The Capital of Morocco )
Rabat is a coastal city about 50 miles north of Casablanca. Its name comes from 'ribat', an Arabic word for border fortification – and that's what Rabat was until the mid-12th century when it was turned into a major fortress. Elements of those fortifications survive today in the city's atmospheric kasbah. Other city highlights include the Hassan Tower, a beautiful sandstone minaret surrounded by half-finished pillars, and walls (the remains of an ambitious mosque project that suddenly stalled in the 12th century).